Part 1: My Fitness Tracker Pros and Cons
Is it juvenile to get mad at technology that simply analyzes your activity? Yes. What's your point? 
Judging by the number of new fitness trackers flooding the market in recent months, it's safe to say that these clever gizmos are going to be with us for a while. Trackers come in all shapes and price tags. Some, you wear like jewelry, others clip on your clothes. They are appearing as apps in our smart phones. You can get a stand alone fitness tracker for under $40, or you can pay as much as $400. In Part 1 of this two-parter I'm exploring the ups and downs I've experienced with my own fitness tracker. Part 2 will be all about you–the trackers you are using and your thoughts on them and their utility as a tool in the quest for better health.
Briefly, the details: I'm using the UP by Jawbone. I've had it for about a year now. Its not the newest UP24 Bluetooth model. Mine downloads to the free UP app via the headphone port of my Android. (Yes, iPhone, too.)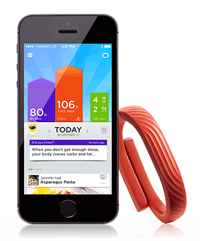 Choose from six colors and basic black, my fav. You can expect to pay about $80 direct from Jawbone; sometimes cheaper elsewhere. UP24 goes for $150, or less, in four colors.  Add another $20 for charger and cable.
Now, here's the thing. I have a love/hate relationship with my fitness tracker and I know I'm not alone. For a while we're the best of friends and then it does something that makes me mad, but that doesn't last either. In the beginning I wore my UP faithfully, 24/7. But, before too long, I got PO'd by its stubborn refusal to admit that any of my yoga sessions or kayak paddling were obviously killer workouts, worthy of atta-boys, extra credit and encouragement. So, we put our relationship on hold while one of us cooled down. And then I jumped back on the horse (switching metaphors in mid stream) just a few months ago with a better attitude.
Here's what I love about it:
It keeps me accountable. I can choose to read my book or I can get off my butt and do some TRX. WWUD (What Would UP Do?)
It nullifies my rants. Why are my jeans too tight??? Oh, wait…. never mind.
It helps me "up" my goals. For example: If I regularly exceed my "steps for the day" goal, UP notices and suggests I raise my goal. Sneaky… but I do love that!
The "inactivity alert" feature, which is also included on the "hate" list, is a subtle vibration on my wrist that lets me know when I've been standing at my desk too long.
UP monitors my sleep quality and offers suggestions for improving it.
It gives me an approximation of total calories burned and breaks down exercise calories and resting calories for the day. Note that I chose the word "approximation". More on this in Part 2.
I love that I don't have to remember to clip, strap or hang it on my body or clothes. It's a comfortable bracelet that I wear all the time.
I love that it's water resistant, so I can don't freak about taking a shower, getting on the river or singing in the rain while I'm wearing it.
Here's the hate part: (Perhaps it should be the "don't love" part. I'm really not much of a hater.)
It is not particularly accurate or reliable when analyzing activities like yoga, kayaking and weight lifting. If my day looks like: Get up, do yoga, work in office, go for a paddle, shower, cook, watch a movie and go to bed, the app will say that my biggest activity all day was my shower. (Some days that's true, but not for this example.) It's irksome when I'm paddling the Little River and get the "you've been sitting too long" alert. To be fair, you have the option to manually enter activities the tracker misses. I just want it to appreciate my effort without me having to tell it. High maintenance is SO not classy.  Hello??
It's a bit of a nag. I'm a restless sleeper. So, the app is like, "Hey, you only got four hours and 32 minutes of sleep and you woke up 5 times last night." and then suggests, " Tonight, commit to going to bed at 6:30 pm. Are you in?" Then during the day it will remind me of my new bedtime commitment. Then, one more reminder as my bedtime nears. I was in the market for more of an accountant than a nanny.
It's a teensy bit ugly. Not hairless dog ugly. It's fine for everyday wear and working out, but the idea, unless I missed something, is to wear it 24/7, so it can get the total picture. I'm not big on accessories, (I don't even have pierced ears) but a rubber bracelet is not my first choice for those rare opportunities that call for a LBD and stilettos. But, help is on the way!
All in all, I'd say the "Loves" outweigh the "Don't Loves" for UP and me. I love the customer service department at Jawbone, too. My first UP stopped syncing properly with the phone app and the company courteously and quickly replaced it (with a newer, more robust version, no less) and followed up our email conversation with a phone call to make sure I was a happy camper.
But wait! There's more! Before writing I asked my Facebook pals to share their experiences with fitness trackers. I expected to hear some "tried it and quit" stories and explore why that happens. On the contrary, everyone who wrote me back LOVES their tracker and I heard some very cool stories of success and body transformation. In Part 2, I'll share some of their stories, along with a tighter focus on what's new in the tracker universe. What's your story? What tracker are you using? Is it a useful tool in your quest for better health? Comment, please.